The Absolute Elsewhere:
Fantastic, Visionary, and Esoteric Literature in the 1960s and 1970s
R. T. Gault
The contents of Absolute Elsewhere are being preserved here as a tribute to their author, R. T. Gault, the philosopher and mystic from Indiana, Pennsylvania. If you have any questions or biographical information to provide about Gault, please contact us at Diamond Bay Research. Happy Reading!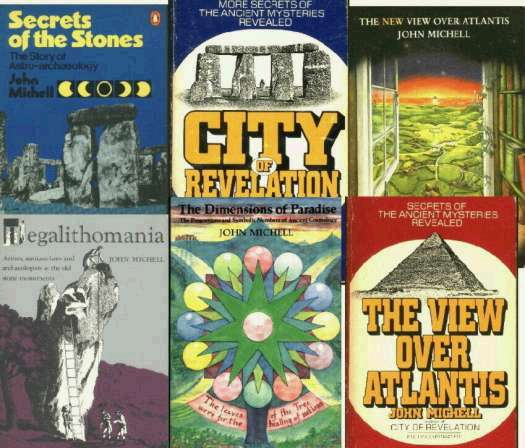 A few books by John Michell, one of the most influencial visionary writers of the period
This is a bibliography of visionary, occult, new age, fringe science, strange and even crackpot works published between 1945 and 1988. Added to the mix are some other works which may relate to them, or at least give a sense of the spirit of the times. The main emphasis is upon works produced between 1960 and 1980, as the subtitle suggests.
Currently available are files covering the years from 1945 to 1979. There are two small files which covers selected titles published before 1949. Keep in mind that the project has been in the works a long time, and continues to change, often on a daily basis.
In January 1999, this project ran out of server space. The good folks at www.cafes.net allowed me more server space, but this did not solve the problem. As a result, I was forced to compress the graphics files, in order to remain within the space allotted. The good news is that each file now loads much faster than it did before, but the bad news is that some of cover graphics are a little less distict than in earlier incarnations.
August of 1999 I broke down and got a scanner, so more and more material from my own book collection will begin to appear on these pages. We have finally reached the end of the 1970s, all before the coming of 2000 AD/CE.
Contents:
Main Bibliography:
| | |
| --- | --- |
| The good old days: | The Post War world: |
| | |
| --- | --- |
| The Early 1960s | The late1960s |
| | |
| --- | --- |
| The Early 1970s | The Late 70s |
| | |
| --- | --- |
| * Files added or revised in 1999. | ** revised in 2000 |
Coming Soon: The 1980s!!




More Texts: As available:

Research Bibliographies: (more available someday):

I am looking for any information that may be available on the following topics:
Lancer Books; a paperback publisher of the 60s and 70s who seemed to be ahead of several trends in Science Fiction, Horror, Fantasy, and Occult titles. I can find very little about their company history.
The Universe Book Club. One of Doubleday's Book Clubs, which specialized in occult and new age nonfiction in the 60s and 70s.
Contributors:
Most of the bookcover reproductions used in this bibliography came from temporary book dealer posts on auction sites such as eBay. A few difficult to find editions were scanned from books in my own collection. The following folks have contributed scans and bookcover reproductions to be used in this bibliography. Want to be a contributor? I am looking for reproductions of bookcovers for many of the titles in this bibliography. If you would like to contribute a cover, drop me a line. .Jpg, .gif. or .bmp formats of a moderate file size are prefered. I will list your name or link as a contributor.

The One Hundred Best Esoteric Books of the Twentieth Century.
The Modern Library arn't the only ones who can make up lists. Here's mine!

Some of my other book and author oriented pages:
Email R. T. Gault.

© R. T. Gault, 1310 Melrose St., Tullahoma, Tn 37388, 931-454-2219, retains the right to be called the author of this work under the dumbfounding and confusing copyright laws of the USA.
---